Soon after starting work with We Are Titans it became clear that my much-loved but aging Inspiron 9300 (seen above) wasn't up to the task of modern distributed Rails development. There's just so much a single core and 2GB of RAM can do, and running parallelized tests while remote-pairing over VNC and Skype was too much to ask of it. So Evan asked me to spec out a new workstation and after some research I settled on the Dell Studio XPS 16.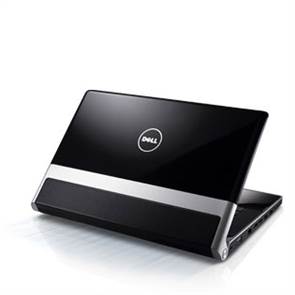 At Devver I had been working on a Dell Latitude E6500, a rock-steady workhorse of a machine that I can unreservedly recommend. I considered going with the updated E6510, but ultimately the XPS 16 hit a bang-for-the-buck sweet spot that I couldn't turn down. After a month of use I thought I'd jot down a few notes.
First Impressions
This is a gorgeous machine, by Dell standards. By PC standards, for that matter. Dell has historically been one to take essentially solid hardware and wrap it in an eye-searingly ugly, low-quality skin. Case in point the Inspiron 9300 pictured above; there's a reason I covered it in stickers. Even the aforementioned E6500, despite being from their higher-end business line, had a foil Dell logo which snagged, peeled, and gouged a bloody gash on my hand after the first day of use.
The XPS 16, by contrast, is, dare I say, practically stylish. It's still not MacBook-pretty, but it's far closer to Apple levels of hardware beauty than anything Dell I've owned previously. The glossy skin is sleek and unmarred by any trashy HP-style graffiti. And the brushed aluminum highlights are a nice but not overdone touch. No silver-painted plastic or instantly-scratched logos to be seen on this machine.
It also feels quite solid, as solid as the E6500. My basic test of laptop quality is screen hinge stiffness, and the hinge on this machine has very little give and easily lifts the keyboard up when the screen is pushed back. The only questionable aspect of the physical design is the lack of a screen latch. Instead, the screen is closed through hinge friction alone. In practice this seems to work well; it just takes a little getting used to, not having to slide or press a latch to open it.
The display is a work of art; more on that later. And the keyboard is one of the new-style thin-key jobs, similar to newer Apple keyboards. I like the feel of it almost as much as my old Apple wireless keyboard; which is to say I like it very much. The keyboard is also backlit, which ever since I used a MacBook is one of my basic requirements in a laptop.
Linux Compatibility
Like most Dell hardware – and this is why I buy Dell almost exclusively these days – Ubuntu Lucid Lynx took to this machine with very few problems. I had to use a development version of the sound drivers to get the headphone jack to work. And I needed to run an xinput script to make two-finger scrolling work on the trackpad. I'm still having some occasional issues with drive errors, and sometimes the wi-fi fails to start until I reboot; but for the most part it's been smooth sailing. Even the ATI graphics, something I had initially been worried about, is supported flawlessly. It's been fun checking out the state of 3D-accelerated gaming on Linux with a machine that can actually handle it.
Vs. a MacBook Pro
I'm not going to do an exhaustive comparison here, nor is it my goal to convince anyone to buy this machine over a MacBook. There are lots of persuasive reasons to go with the MacBook, not the least of which that MacBooks come with Mac OS X and if that's the OS you're comfortable with that's probably what you should stick with. That said, there are a couple of features which make this machine stand out when compared to the current crop of MacBooks.
The display. My XPS 16 came with Dell's 16″ full HD 1920×1080 RGBLED display. This display, unlike common WLED displays (including the ones found in MacBooks) can achieve 100% color reproduction. It's also sharp as a tack and just generally looks terrific. If you care about that sort of thing, it's probably the finest laptop display money can buy right now. A word of warning, though: Dell is experiencing supply problems on the RGBLED displays, and last I checked it was no longer available with i7 models of the XPS 16.
The CPU.The XPS 16 is available with the Intel i7 720QM CPU. The 720QM has four cores and is can run a maximum of eight threads in parallel (with hyperthreading). The MacBook Pro's 620QM, by contrast, is a two-core CPU which can achieve higher peak speeds in terms of MGHz, but only run four simultaneous threads. If you are doing work with a high degree of parallelization – if, for instance, you are running your test suite with Hydra – the 720 is the better CPU.
Conclusion
It's a stylish, Linux-friendly laptop which at ~$1600 has better specs than a top-of-the-line MacBook. All in all, I'm very happy with the Studio XPS 16.